Story
Henkel North America Women Leaders: In Their Own Words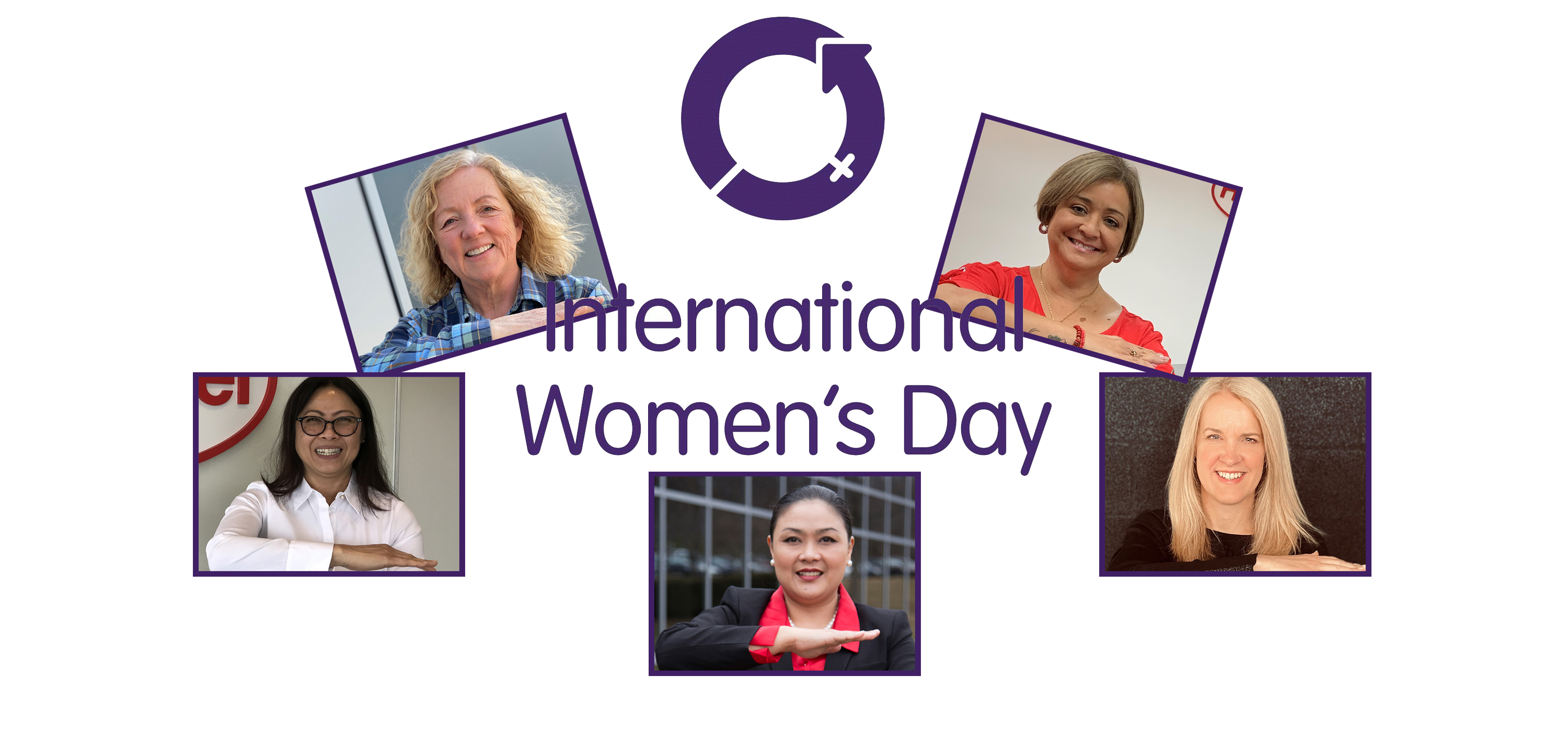 "'Creating equal opportunities for all' is the core of our diversity and inclusion strategy," says Angela Curley, responsible for Human Resources, Diversity & Inclusion and Corporate Citizenship. "Today, 35 percent of our managers globally are female, which represents good progress. We are committed to do more for the advancement of women and creating equal opportunities for all."
To spark conversation about equality in the workplace and career development, Henkel organized engagement activities such as panel discussions with executive leaders, webinars on professional development, networking events and community service activities. And, we asked women leaders at Henkel North America to share insights into their personal and professional journeys as we commemorate International Women's Day and this year's theme #EachforEqual.
Read more later this month as we continue the conversation during Women's History Month.
Rosa Dávila
Director of Operations
Henkel Puerto Rico
"For me, International Women's Day reflects the many centuries of women gaining access to education, the right to vote and other privileges that were exclusive to males. It means that all of us – men and women – are created equal, and I'm proud to work at a company that is reinforcing that truth.
Henkel recognizes the value of women in the workplace. The percentage of females in management positions has increased through the years, and it's an affirmation of Henkel's commitment to include more women in these roles. As the first female to be in the top management position in the Sabana Grande, Puerto Rico site, I'm proof that Henkel walks the talk.
One of my heroes – Angela Merkel, the first female chancellor of Germany – is a testament to what women can achieve in leadership roles where women are a minority, She is a fierce and assertive woman who loves science – something that we have in common, as I'm a chemist. I coach female colleagues at Henkel and for the past three years our site invites 100 girls to participate in STEM Summer Camp. The main message in both cases is the same: Never quit! Women have the strength and resiliency to achieve great things, all while being caring, loving, feminine and beautiful both inside and out."
Cindy Deekitwong
Global Head of Marketing for 3D Printing, Adhesive Technologies
Rocky Hill, Connecticut
"From my perspective, it's the perfect time to be a female working in the industry. At Henkel in general and in the 3D Printing business unit specifically, many women are in leadership positions, so I never feel alone. We're learning from one another and helping each other grow.
I would encourage everyone at Henkel to view every day as International Women's Day, where we embrace diversity and understand that it's not just okay to be different, it can actually be an advantage. Different perspectives are vital to our shared success. For example, while we traditionally saw Adhesives as business-to-business, we are now humanizing the business, which gives us a big advantage in the marketplace.
As a Henkel employee, I am proud to be part of a large, multinational company with leading innovations, brands and technologies. Diversity and inclusion are firmly anchored in our corporate culture, and women play important roles in nearly every business function. It's not perfect, but instead of being frustrated, I would rather focus on the huge progress we've made because I think it can be very uplifting and empowering to all women – especially young women – to see how far we've come."
Click here to view Cindy's LinkedIn post called "A Letter to a Younger Me."
Laura Hyland
Vice President of eCommerce, Laundry, Home Care US
Phoenix, Arizona
"I love to support up-and-coming associates and have had the great fortune to mentor some exceptional women leaders both formally and informally. My approach is one of pragmatism, honesty and transparency – using my knowledge of both the business world and Henkel to help women navigate the company and look for ways they can showcase their talent, build relationships and prepare themselves for the next steps in their career.
Since 2016, we've built quite a diverse eCommerce team across Laundry and Beauty, and we are better for it. We have a team that respects on another, brings a variety of experiences and perspectives to the table, and supports one another. At Henkel, we have really strong ERGs that are welcoming to anyone, and I'm proud that a number of our eCommerce team members are ERG leaders.
Speaking frankly, I feel like every day should be Women's Day! Gender equality should be the aim of every organization and government around the world. When we successfully tap into the female talent base and provide them the same opportunities, rewards and respect as men, we support economic and social development that drives growth and innovation to their fullest potential."
Pamela Lam
Vice President of R&D, Laundry and Home Care
Trumbull, Connecticut
"I want to empower women because it makes business sense. Women still are making purchasing decisions in the product categories where Henkel competes, so we need an employee make-up that is reflective of that consumer base. In R&D, especially, we want a diverse team that brings different ways of thinking to help us solve problems and deliver innovations. For that reason, I have made a commitment to coach and develop women leaders.
At the same time, I believe strongly that we need to move beyond mentoring and coaching and into sponsorship. Sponsors are people who are actually responsible for your career and can make decisions that impact your trajectory. As women, we need more of that.
At Henkel, I am the sponsor of the Asian American Professional Association. For International Women's Day, we are joining forces with another employee resource group – the Professional Women's Forum – to host a senior leader panel. I'm glad we are doing it, but at the same time I feel that anytime you have to call something out – like International Women's Day – it means we have not progressed as far as we should. That said, I do see the purpose and value of having a special day that brings attention to the situation. Today, I am standing on the shoulders of giants who changed the lives of women, and now it's my turn."
Suzanne Morello
Director, Integrated Business Solutions
Rocky Hill, Connecticut
"Henkel built diversity and inclusion into their corporate values and leadership commitments to foster a culture where this is the norm in our daily business. We welcome and respect different perspectives, knowledge, experiences and talents, which we need to bring together to outperform our competitors.
I enjoy contributing to women leadership development at Henkel by mentoring officially and unofficially, and by coaching at our leadership development classes. I'm also a member of The Women's Professional Network in Rocky Hill, which works to foster the development of women to achieve their potential in support of Henkel's vision, values and business goals.
As women, we need to encourage other women to stretch and volunteer. For young Henkel women who want to move up from employee to manager, first recognize that you are in the running for this new role because you deserve it. At the same time, when you do become a manager, you have to change your mindset. Instead of being an individual contributor, you are now responsible for the performance of your team and for coaching and developing them.
Sometimes women struggle with confidence and believe they need to be 100 percent qualified before raising their hands for a new assignment or job. To them, I point to Maya Angelou's advice that "If you don't like something, change it – and if you can't change it, change your attitude."