Mar 8, 2021
International Women's Day: Choose to Challenge Inequity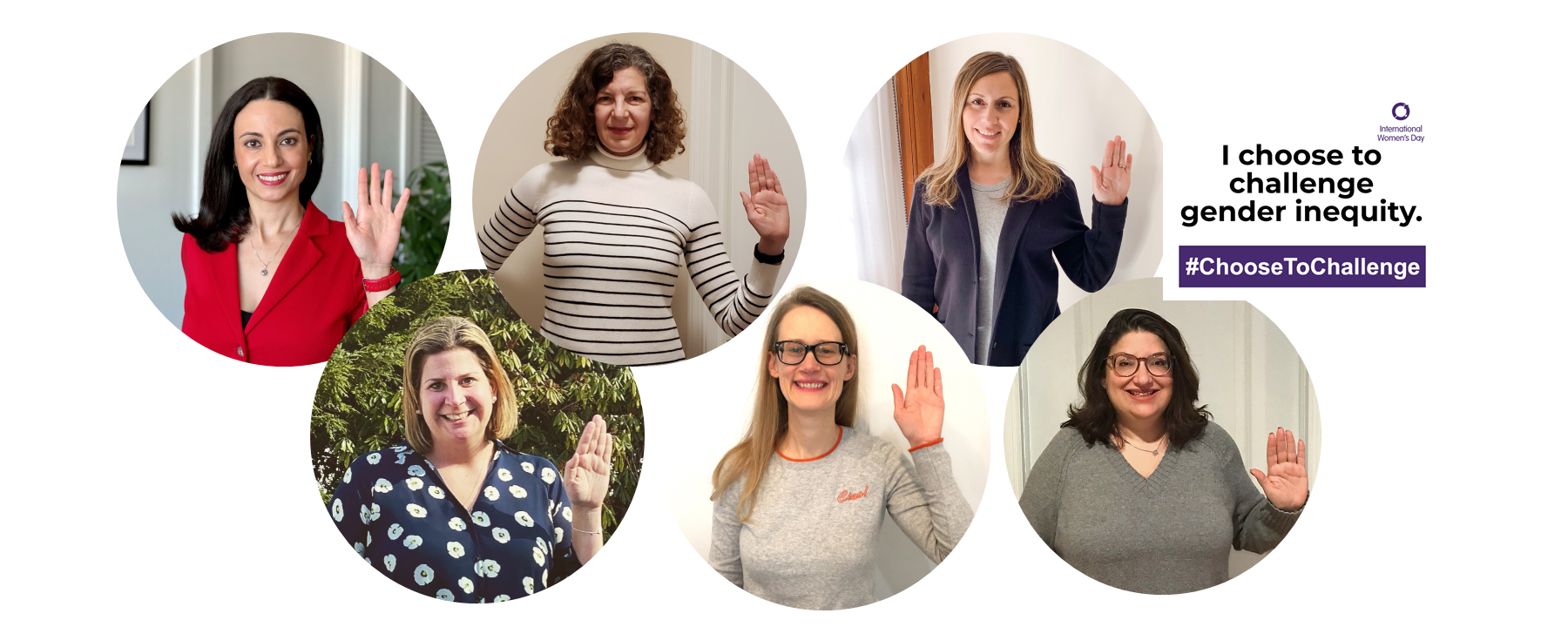 We are proud to join the celebration of International Women's Day (IWD) across the globe on Monday, March 8. Not only does the day commemorate women's achievements and raise awareness of challenges that persist today, IWD also marks a call to action for accelerating gender parity.
In honor of International Women's Day — and Women's History Month in the U.S. — we invited women leaders across our company to share why they "Choose to Challenge" and their views on fostering a more equitable world.
I choose to challenge gender inequity because gender should never be the basis for one's career success. I am happy to see more active participation from Henkel to raise awareness and provide tools to overcome bias. I am also thankful to have my mentors and network to learn from, like my Lean In Circle from the Professional Women's Forum Employee Resource Group. We candidly share our stories, our regrets and lessons learned. I also keep an open door, especially for students and younger colleagues who want to talk, ask for advice or get a different point of view. Together, we are building awareness of bias and leveraging our strong support network to overcome our challenges.
Elif Affan, Director of Strategy & Transformation Laundry & Home Care NA
I choose to challenge the first offer. I had a friend and colleague who often said, "you don't get what you don't ask for". Seeing her ask and get what she asked for at work opened my eyes to the power of negotiation and how much I was leaving on the table. Since then, I haven't shied away from negotiating when it comes to what I'm worth. Based on statistics, many women don't negotiate. But we all should!
Karen Crova, Director, Sales Finance Laundry & Home Care US
As an experienced, educated engineer who leads a high-performing technical team, I choose to challenge the stereotype that women are not technically savvy. I also choose to challenge the myth that women do not support other women. I am happy to see other females succeed, and through personal mentoring and women's networking groups, I help them do so in my company and my community. Even today, women that get promoted into leadership ranks may be the only female in the room. Across all industries, the main challenge we face is the need for more diverse representation at the highest levels of leadership.
Laura Hirschhorn, Key Account Manager Adhesive Technologies
My career began in field sales, and on almost every sales call I was met with doubt that "this girl can't know anything about sealants and adhesives. "Addressing gender bias, diversity and stereotypes head on, candidly and openly, helps to take away the feeling that we need to "tiptoe" around these topics. When it becomes the norm that we discuss talent as strictly talent — without talking about gender, age or family responsibilities — we are finally moving in the right direction. I am grateful for strong leaders over the years who helped me find my voice, grow my confidence to take a seat at the table, and now enable other women in our organization to do so!
Beth Schlenger, Head of Marketing, Adhesive Technologies NA
In my role as President of the B-NOW Employee Resource Group in Bridgewater, New Jersey, I am collaborating with colleagues to challenge gender inequity in the workplace. For International Women's Day, we are introducing Lean In's 50 Ways to Fight Bias program, a great tool to better understand ongoing bias and how to combat it. I have been fortunate during my 20-year career at Henkel to have a supportive boss and company that treated me as a valuable part of the team, even though I chose to work part-time when my children were younger. My advice to other women is to ask for what you need. If you continue to perform excellent work, your contributions will be appreciated — even if they require some flexibility for a period of time.
Lisa Seidman, Assistant General Counsel, Law Department NA
I choose to challenge by calling out inequity or bias when I see it, and this can be done in a respectful, educational way. Conversations like this help people grow, and every time we have them it becomes a little bit easier to talk about. I am lucky to be surrounded by people who want to help drive diversity and inclusion at Henkel. And I am proud to be part of this work through the Rocky Hill, Connecticut, Women's Professional Network and my town's Diversity and Inclusion task force. I challenge bias so my girls can live in a world where gender parity exists.
Amanda Weaver, Corporate HR Director Adhesive Technologies
 Join Henkel employees on LinkedIn in sharing why we #choosetochallenge gender bias and stereotypes. Together we can build a more equitable world.